"Ketamine Considerations for Prehospital Use" Now in Print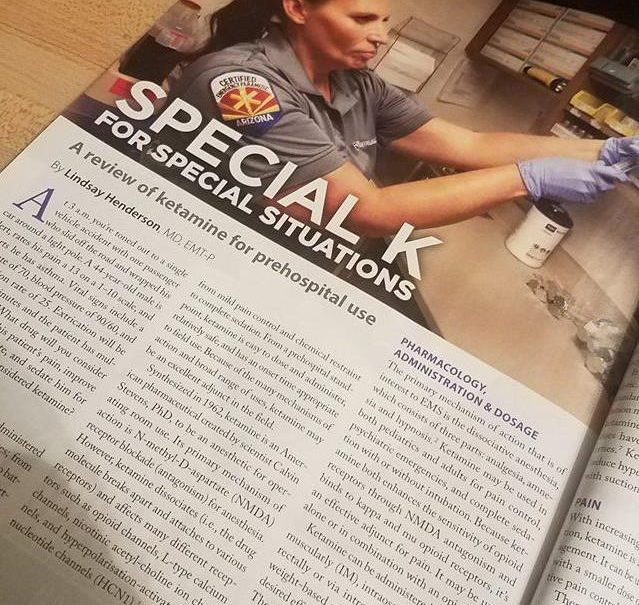 In November 2016, I had the pleasure of having my first article published in a peer reviewed journal.  Ketamine has a long history of use in medicine, and this article gives an overview of the use of Ketamine in emergency situations.  The article is available in print in the November edition of the Journal of Emergency Medical Services (JEMS) and is also available online.  You can find an interactive version of the quiz that appears in the article here on my site.  In fact, you might want to take the quiz before reading the article, just to see how good your current knowledge of the effect, administration, dosage, and effects of Ketamine are.
My thanks to Pennwell publications and editors Ryan Kelley and Allie Daugherty for their work. And a special "thank you" to Paramedic Leah Rife for being dedicated enough to the cause of medicine to pose for images in the middle of 48 hour shift.
If you are in need of training, demonstrations, or guest speakers at your organization, please feel free to contact me.
A quick table of contents for the article:
Introduction
History of Ketamine
Pharmacology, Administration, and Dosage
Airway, Sedation, and Intubation
Pain
Cardiology, Neurology, and Physiology
Secondary Effects, Considerations, and Contraindications
Illicit Use
Wrapping Up
"We look for medicine to be an orderly field of knowledge and procedure. But it is not. It is an imperfect science, an enterprise of constantly changing knowledge, uncertain information, fallible individuals, and at the same time lives on the line. There is science in what we do, yes, but also habit, intuition, and sometimes plain old guessing. The gap between what we know and what we aim for persists. And this gap complicates everything we do."
― Atul Gawande, Complications: A Surgeon's Notes on an Imperfect Science